What is a Videx Round (cylindrical) Tank?
The Videx round (cylindrical) water storage tank is the most recent addition to our product catalogue.
Our round tank is designed to be used across various sectors and applications. The radial and vertical stiffeners used in these round tanks are an exclusive in-house design which makes them ideal to use in high-velocity wind areas.
They are also quick and easy to install. There is very little site preparation that needs to be done, because they are installed using an onsite jacking system and in-house installers.
Watch this video to see how our round tank is constructed.

Videx round tanks come with a wide selection of sizes and capacities for you to choose from. The minimum capacity for our round tank is 8kL and extends all the way to a maximum capacity of 2000kL (2mL).
Our cylindrical tanks are proudly made in South Africa, at our factory in Germiston, Johannesburg.
Our lead times are typically 4 to 8 weeks with the installation times being on average ±20 days.
These tanks will only be installed on an engineered concrete slab.
We employ a strict and comprehensive process when installing your round tank, to ensure the highest level of quality and stability.
These are the benefits of our process:
Easy Jacking System
In-House Installers
Site / Installation Progress Feedback
Pre-Civil Work Inspection
Step by Step Onboarding
High Frequency Pattern Weld Adhesion
Double Pattern Weld on all Cross Joints
Videx Exclusive Radial & Vertical High Velocity Wind Stiffeners
What are the benefits of a Videx round (cylindrical) tank?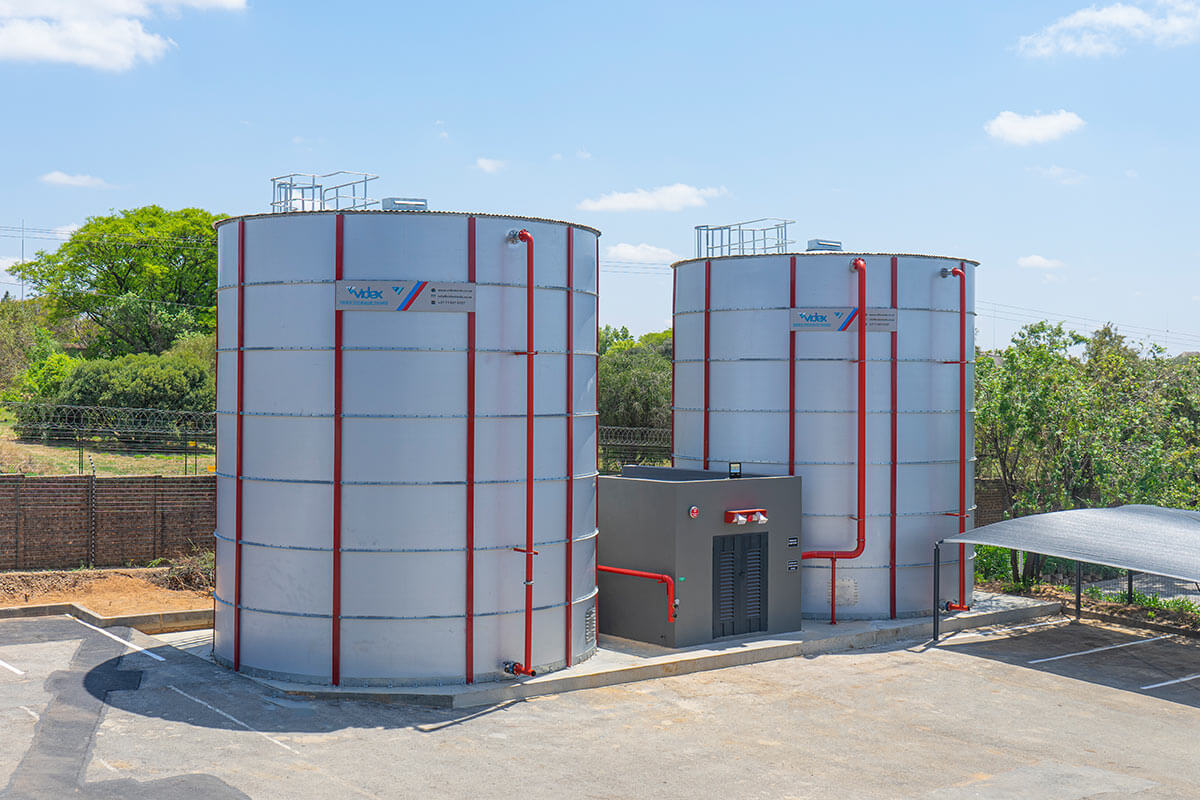 There are two main benefits to choosing a round tank.
Our food-grade PVC bladder system
The first benefit of using a Videx round tank is the bladder system. It prevents liquids from making direct contact with the tank panels. This extends the lifespan of your tank due to a lower risk of corrosion.
Because we are pedantic about quality, the bladders we use consist of a food-grade PVC plasticised formulation coated on a polyester woven fabric with a high-frequency pattern weld adhesion, and they are double pattern welded on all the cross joints for extra strength.
Economical for your space requirements
The second benefit of using a round tank is that is doesn't take up as much space as other tanks do in relation to each other. We use a 1:2 ratio when installing the round tank. For instance, if your base is 10m², we can install the tank up to 20 metres in height. This allows you to maximise the space that you have and install a tank that ensures the greatest capacity to store water.
Where are Videx round (cylindrical) tanks used?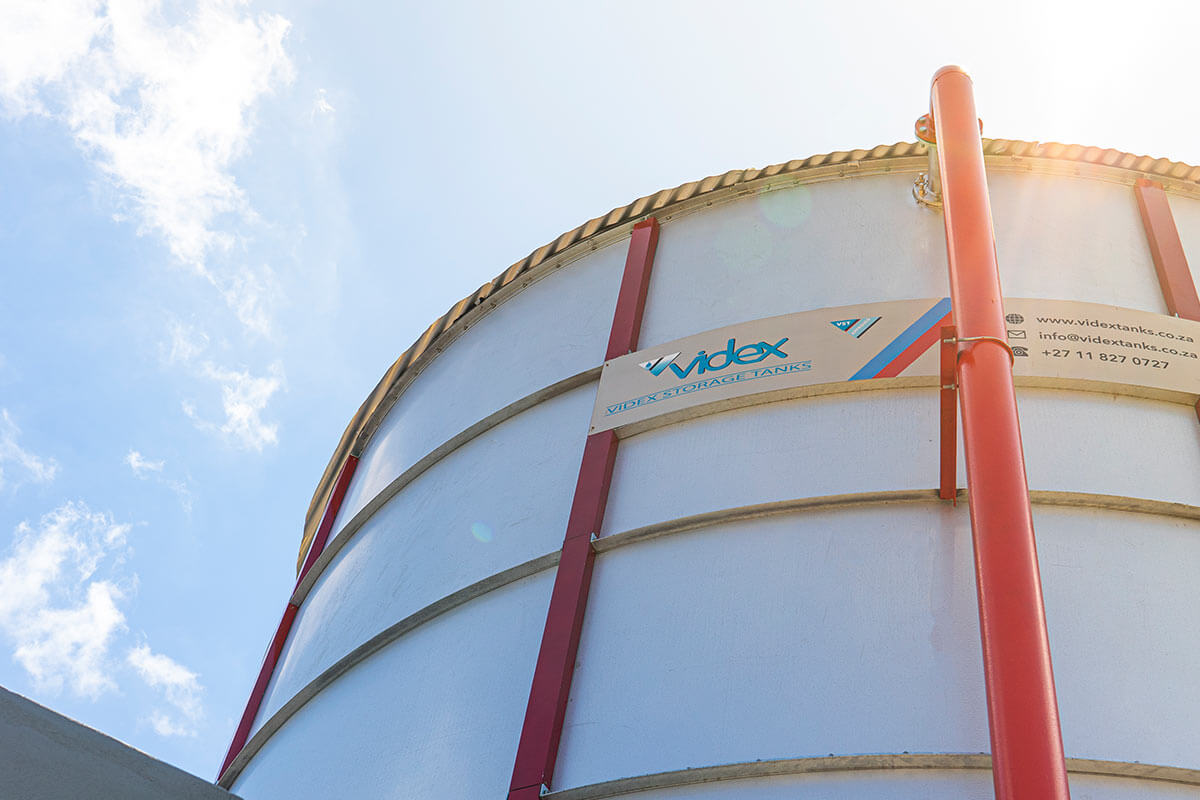 There are a variety of applications for our round tanks.
The main application
Have you ever walked in a shopping centre and looked up to see sprinklers built into the ceiling? They are a crucial part of the construction of any building and are vital to businesses looking to protect their assets in the event of a fire.
When smoke or a fire is detected by the fire alarm, the sprinkler system automatically activates in order to suppress the fire until the fire department can arrive and completely extinguish the flames.
Businesses cannot be lax and rely on municipalities to supply an adequate and constant supply of water to ensure the sprinkler system is ready to activate when called upon.
That's why many businesses install Videx round (cylindrical) water storage tanks in order to supply a constant and sufficient flow of water through the sprinkler system in the event of a fire.
Secondary applications
Our round tanks store water in a secure manner for a variety of other purposes.
For some businesses, installing a round water storage tank ensures that their fire hydrants and hose reels have enough water to suppress fires if the need arises.
Other businesses install round tanks in order to supply storage food-grade potable water that can be used as part of their food preparation or manufacturing process.
If you have any questions about whether the round tank is suited to your project, or if you have specific installation requirements, click here to contact us, and a friendly agent will assist you.
Our company accreditations
We are a licensed and approved supplier under the Automatic Sprinkler Inspection Bureau (ASIB), the body responsible for ensuring that any sprinkler systems installed in buildings in South Africa are of the highest quality. Read more about ASIB here.
All our tanks come with a 1-year warranty, plus we offer after-sales service & support to assist you at any time and ensure that your tank is working to your satisfaction.
Want a quote for your next project? Click here to start.
You can also call us on (+27)11 827 0727 or email us at [email protected]
Videx Storage Tanks (VST) is a solutions-based water tank manufacturer and supplier, furnishing the African continent.
Think Tanks. Think Videx.